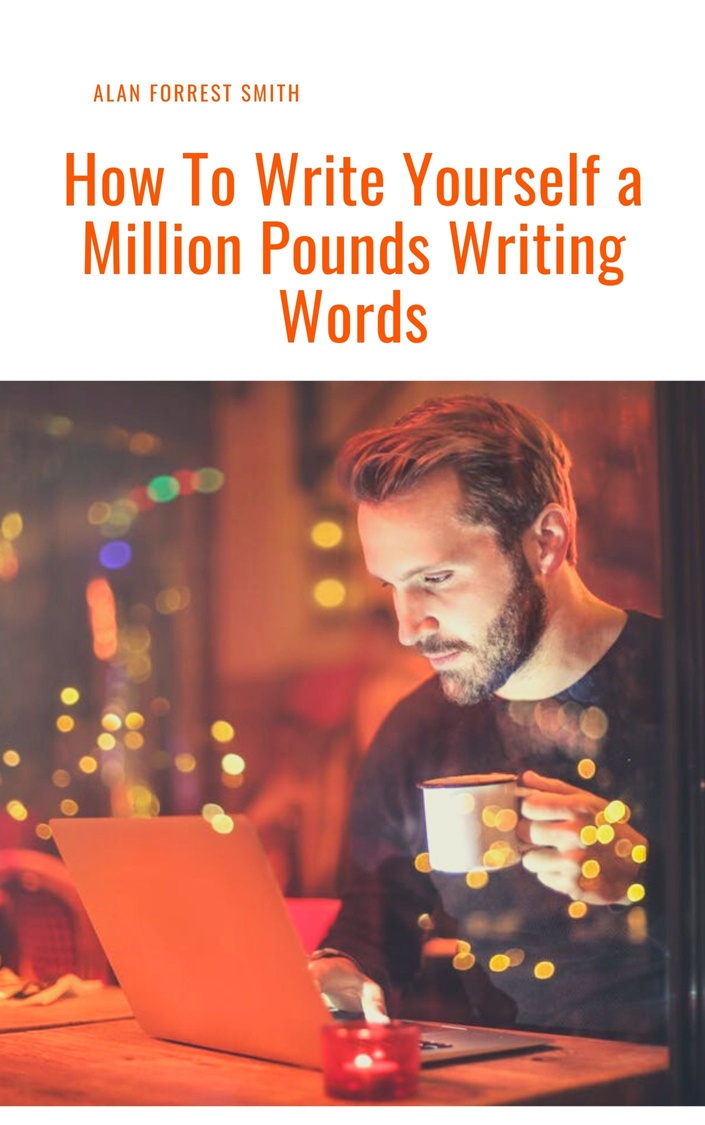 How to Write Yourself a Million Pounds Writing Words
How to Become a Highly Paid Copywriter
Watch Promo
Absolutely Everything You Need To Know About Making Money From Copywriting

Including Techniques, details secrets and experience. Case studies and samples.
You will learn how to make serious money writing: And walk away after the course with enough inspiration and motivation to write yourself a brand new life!
Three experts take you by the hand and reveal to you EXACTLY HOW you can create 21st century copy and copy business that is relevant for the *NOW* Generation!
And ... this is the only program I know of, where a proven copywriting expert with a 31-year track record is going to reveal for you the easiest, fastest, quickest way YOU CAN quadruple YOUR copywriting profits - IN A DAY!
THIS IS two-day intensive masterclass on DVD.
Over 16 hours of video filmed in London UK of hardcore, original thinking from one of the UK's number one copywriters.
READ BELOW: How a Hairdresser Evolves Into a World Respected Copywriter!
READ BELOW: How To Pack In Your Regular Job And Start Running Your Own Copywriting Business
READ BELOW: How To Get Paid Writing


Dear Copywriter and Aspiring Copywriter,
"Forget it, Alan," the experts told me. "You won't be able to do it."
They were talking about my "stupid" idea of becoming a world-class copywriter and running a copywriting business because I had been cutting hair for the past 20-years!
"No one will accept it." "You have no track record." You have no education." You need to plan for your retirement now."
I had reason to believe the experts were wrong.
When I looked at one of my heroes in copywriting, I discovered this. He started his copywriting career at the age of 39 yrs of age. He also came from a creative background as a French cuisine chef. He was also ... like me ... a Scotsman!
If My Mentor Could Become a World Respected Writer ... So Could I ... But More Importantly ... So Can YOU!
Okay here is what happened to me. Please apply it to YOU. It will give you the release you need to break free and start being a successful copywriter.
I started cutting hair for a living in 1982. My working life began years before then as a landscape gardener. Before then ...? I simply walked out of school with no formal education.
Things were clearly going to be tough.
Despite my lack of education, I decided for some crazy reason cutting hair would be a pretty cool way to make money.
I trained in Manchester, UK, and to cut a long story short I eventually had my dream come true. It was this ... to become self-employed with my own hairdressing salons.
In 1989 I opened my first Hairdressing salon. It was 250 sq feet in size. Within 18-months my second salon was open. It was 2,000 sq feet in size. I eventually opened salon number three.
Sounds like fun right? Sounds like I was making a huge amount of cash right? Well, the truth is this; working 7-days a week, thinking about business non-stop for 24 hours a day (waking up in the night in cold sweats) to support a bunch of stuff that basically couldn't care less nearly killed me. That is when I discovered.
I Could Create a Living and Lifestyle Writing Response Driven Words ...
Now, this is incredible yet true.
My first copywriting job was an accountant. He was a client that came to the salon and asked me who write my adverts. I got paid $1,500 for writing just 3-single page letters. Writing the letters took me around 6-hours. So I was suddenly getting paid ... $200 per hour for writing words.
This felt impossible, but it was actually happening.
From there I went on to write copy with Michel Fortin, Andrew Reynolds, Stephen Pierce, Marlon Sanders, Jay Abraham, Dan Bradbury, TV stars, famous authors and today global corporations and of course many, many more world-class business and marketing experts.
Things had begun to change for me and my life.
Now you might be asking and thinking about this ...
How Can You Get Paid Serious Amounts of Cash Writing Words?
The following is a true story of just one of my students that you will meet on DVD in the copywriter's masterclass.
"absolutely mind-blowing! ... words just can't do justice to what I learnt this weekend ... truly remarkable"
Stephen Georgulis, Sydney Australia, invested over $20k of his savings, flew around the world trip of 25,000 miles to join us at the Advertising Masterclass ...
Here's his amazing story ...
Yeh, it's true, I did take around $25k in around 12 weeks after attending The Advertising Masterclass January 2005 with master teachers, Brett Mc Fall and (slightly eccentric) Alan Forrest Smith!
How?
Well, I had read about The Masterclass and I knew both these guys had red-hot reputations. The problem was I had no cash and it was going to cost me at least $20k to fly from Sydney Australia, pay for my entry ($10,000) and other related costs.
The other problem was I had no real idea what copywriting! How I was going to make cash from it. So I did a little research and came to the conclusion that if I did it right (they way they teach me) I could easily get my money back fast and ... save enough to buy my dream car a 911 Porsche ;-)!
So I borrowed the money (thanks mum), flew 25,000 miles round trip and put my faith in these guys! If it failed, I would be in debt big-time.
"ABSOLUTELY MIND-BLOWING"
I can't describe how life-changing the advertising Masterclass was and how much I learnt. Okay, I had manuals and all the other stuff but just to spend 3-days up close and personal. Throwing questions at them. Asking. Digging. Delving deep into the minds of two guys that really do walk the talk.
And to be honest ... my own mind was just totally blown away. I kept thinking how can I fail now. It was awesome!
Anyway, I had to come home and build my new copywriting business fast to pay back mum and some other family member and friends I had borrowed from.
A private conversation with Alan (the mad one) revealed that 99% of copywriters never make enough cash to live a decent lifestyle. I listened closely (being a Ninja expert I am trained to listen, meditate and apply).
I THINK SOMETHING IN ALAN'S SUBCONSCIOUS WANTED TO TAKE THIS EXPERIMENT ONE STEP FURTHER!
To be honest, Alan took me under his wing and mentored me on virtually daily basis via email and phone beyond the class. He wanted to see how far he could push me from average into amazing!
If I didn't do what he had taught me he would kick my ass and force me in the right direction.
Now the truth is this. Alan is so out of the box, it's untrue. He is kind of a nut but his technique for positioning and building business has totally blown me away. It was only by DOING PRECISELY what I had been told and shown by Alan and Brett that fast-success would come.
I stuck to every last word and bit of info from those guys! Look at me now.
Where I am right now.
I have around 12-months work on my desk. Yes, I did say TWELVE MONTHS! Amazing right? (I only began my copywriting career 6 months ago)
I have taken around $50k plus through my business so far. I am continually being contacted by some of Australia's biggest entrepreneurs now for copywriting projects.
This'll sound crazy but ... I even turn work away. It's all just a little mad but hey considering most copywriters never do that ... I love it, love, LOVE IT!
By this time next year this young ninja copywriter should have his 911 Porsche outside his apartment! It easy when you follow PROVEN MASTERS ... E-A-S-Y!!!
What else can I say.
If you have a chance to be mentored by Alan Forrest Smith at one of his Masterclass events you have to go. You must go.
It'll be like NOTHING you've been to before. His stuff is cutting-edge. Breakthrough and his without a doubt put me on my path to a million bucks.
And by the way ... don't expect the Masterclass to be another seminar. It won't be. Alan won't allow it. Expect Fun. Education. Blood, sweat and tears. But expect to walk away with what I now have ...
... the skills to build a mega-copywriting empire in literally MONTHS, not years! You'll get exactly the same.
Day One: The Copywriter Masterclass
Session 1.
Revealed The Half-Truths and Blatant Lies About Making Money as a freelance Copywriter
Why Reading LESS About the skill of Copywriting Will Give You Skills
The Reason You Must Ignore Most 21st Century Copywriters
The Laziest, Quickest, Easiest Ways To Earn Huge Amounts Writing Words
Revealed: The Exact Tools For Mega-Copywriting
Why Less Clients Means More Profits!
Exploding The Myths Surrounding Copywriting
21st Century Age Old Secrets Of Response Copy
Why You Need To Know What People Think
Why You MUST KNOW What People Believe
Why You Need To Know No one Cares
The Subtleties behind ...
Snapshot Copy ... THE MUST KNOW technique for the 21st century!
Trash Copy ... a key to readership!
Story Copy ... feeding the human condition.
Selfish Copy ... how to understand it.
Human Copy ... why you cannot change people.
Futurism Copy ... essential for all copywriters!
The Finer Detail Behind Attention Grabbing Headlines
Headline Examples and Why Detail Works
Why People Respond And What They Really See In Copy
Why You Must Prove It In Your Copy
Driving Home Your Benefit Factor
How You Have To Tell Them What To Do
Examples of Real $200,000 adverts
The Decades-Old Headline System For The Modern Age
Why People Only Buy Solutions
Why You Must Avoid Certain Exclusion Words
Why News Sells Like Crazy
Stuff Copywriters ... THE CLICHÉ is King, Here's the Proof!
Words That Make People Cry Sell
Why The Brand Name MUST BE In The Headline
How To Avoid Hucksterism's
Writing Headlines Live In The Class
How To Write a DVD Player Example
How To Write a Back pain Product Headline
How To Write a Funky Car Headline
How To Write a Stop Smoking Headline
How To Learn From 100-Year-Old Headlines
and ...
My Own Personal BODY COPY Formula for Success
What You Must Avoid In The Body
What You SHOULD Add Into Your Headlines
Why Short Paragraphs Are Essential
How Long Should Your Copy Be
And More, Much More!
Things Like ...
How To Make The Body Copy Flow By Removing One Single Word
The Subtleties of Words
Connecting Paragraphs ... How To Do It!
Mouth Watering Offerings ... Actual Examples
How To Make a Car Offer Truly Irresistible With a Higher Price!
How To Create Exciting Offers With Boring Products
And So Much More You'll Love To Learn From!
Special Guest for 90 Minutes With Ace Underground Copywriter and Marketing Genius Raja C. Hireker.
Raja is a copywriter I have worked with for the past few years. You WILL NOT have heard of him I am sure of that. However he is a true ACE when it comes to words.
Raja covers Pre-Headlines, Headlines, Sub Headlines, The Opening Paragraph and more.
This guy is a must hear copywriter. Most of his training is from Dan Kennedy! His new, fresh angle on copywriting is a delight to see on DVD. Without question a must-use copywriter with a massive base of knowledge way beyond the mind of most copywriters ... in my opinion!
And ...
Raja deliver his Bonus session he called ...
The 3 Mental Shifts You've Got To Make If You Want To Get Out of Being Just an Ordinary Copywriter to Being a Fabulously Paid In-Demand Pro!
You will see Raja deliver his breakthrough copywriting business techniques - over 90 minutes of quality content!
Anything else?
How Would You Like To Meet a Young Guy That Actually Took My Advice and Created a SIX-FIGURE Copywriting Business After Flying Once Around The Planet To Meet Me!
Stephen Georgulis flew literally once around the planet to be trained by myself. He came from Sydney Australia.
Here is just a snatch of what you will hear from Stephen.
Ste Georgulis flew all the way from Sydney, Australia to speak to the class. Why would he do that? Well, easy really, I asked ste to become an expert witness for myself and my teaching abilities to take a newbie to an ace writer in weeks!
Can I share with you what Steve delivered?
You Need To Listen Very Close. Stephen Is Proof That YOU CAN Earn Huge Amounts Writing Copy!
Okay here it is... listen close this guy has made an incredible impression on the day.
Ste revealed things like ...
How To Become a World Class Copywriter In Just Weeks After Listening and Applying Alan's Breakthrough Strategies
Action Points For FAST Copywriting Success
The Single Most Important Key To Your Success
Why You Must Get Off Your Backside To Make Cash Writing Copy
The Two Critical Factors That Take Your Copywriting Business Into Full-Time Cash Production
How One Tiny Remark Over Dinner Gave Me My First $10,000 Copy Job!
How Five Minutes Work Gave Me Massive Coverage Over The Next Few Months!
The Result Of My Hard Work and How You Can Easily ReplicateWhat I have Been Taught From Alan
And much, much more inspirational real-life student to copywriter
ACE Michel Fortin Said This About Alan Forrest Smith
Alan Forrest Smith is one of the most outspoken, more respected and most response-driven marketing experts on the planet.
Creator of the NonConformistMarketer.com, Alan has taught aspiring copywriters all over the globe, from the US and the UK to Singapore and Australia.
Michel Fortin was asked this question on his forum:
"If your life depended on the result of a piece of sales copy who would you ask to write it?"
Mike's answer:
Alan Forrest Smith!
DAY TWO: The Copywriters Masterclass
The second day of the MasterClass began with ..
My Life and Observations In Copywriting And How You Can Benefit Financially From The Successes and Failiures I Have Seen.
In this session, you'll learn stuff like ...
How I Made THIRTY GRAND In 60 Minutes (and how you can easily copy this)
The Easy Way To Get a Client To Happily Write You a Cheque For $50,000
How To Get New Clients To Pay You $5,000 For a Single Day Consulting (and even getting them to buy you dinner on their tab!)
How To Turn Your Email Into A Cash Machine (real example of how one email pulled in nearly $20,000 in less than 10 minutes and how you can copy it)
How To Make SIX FIGURES From One Joint Venture
How To Create Passive Incomes From Copy You Wrote An Age Ago!
And You'll Learn ...
My Big Ticket ($50,000) Secret!
Listen up ... How About ...
I Reveal To You At Least 14 Tested Tips I Used To Literally Explode My Copywriting Business
Can I share this with you?
ONE AMAZING TIP: There is one tip in here that will make your copywriting business go totally nuts, crazily busy.
Use, harness and practice this one ... you CANNOT FAIL to earn huge amounts writing!
THREE PERSONAL SECRETS: Sound good? Well, wait till you hear these three personal secrets. I can tell you right now that following 3 secrets propelled my own copywriting business at Orange Beetle, virtually overnight.
The First Gigantic Secret; F-----G. Harness this, the result is astonishing as I know. No brainer, easy to copy!
The Second Gigantic Secret Is; P---------G. This one secret is the magic tool that will determine how much you can charge.
The Third Gigantic Secret Is; B------G. Here is the single most important thing 99% of copywriters will never use in a month of Sundays but it's the one thing that has made Orange Beetle superstar status.
All 3 gigantic secrets are detailed in depth so you truly understand and get to grips with their power. Frankly, if you don't know these ... you'll always face an up-hill struggle with your copywriting business!
And Why ...
SMART COPYWRITERS MAKE CASH: It's Only The SMART Copywriters That Make Any Money (I will show you HOW YOU CAN be one of those very smart, savvy copywriters that make heaps of cash!)
PUBLIC SPEAKING MAKES MORE CASH: And WHY you MUST DISCOVER the art of speaking to build your business. (I reveal for the first time ever my own public speaking secrets that get me voted NUMBER ONE speaker at almost every seminar I speak at. I have been voted number one on the same stage as guys like, John Childers, Stephen Pierce, Kirt Christensen, Michel Fortin, Mike Filsaime and many, many more speakers)
How Would You Like To Know How To Create a Cash-On-Tap System With Your Copywriting Skills?
You will learn my 8 simple steps of how to create cash on demand as simple as 1,2,3. This is so simple it's just not funny!
I even show you how to create an income of $40,000 for one day's work. YES, just 6-8 hours work!
AND LISTEN TO THIS ...
Would You Like To Know How You Can Pull In Well Over $100,000 From a Single Client?
YES, yes, yes ... I show you exactly how to do just that.
And there is more ...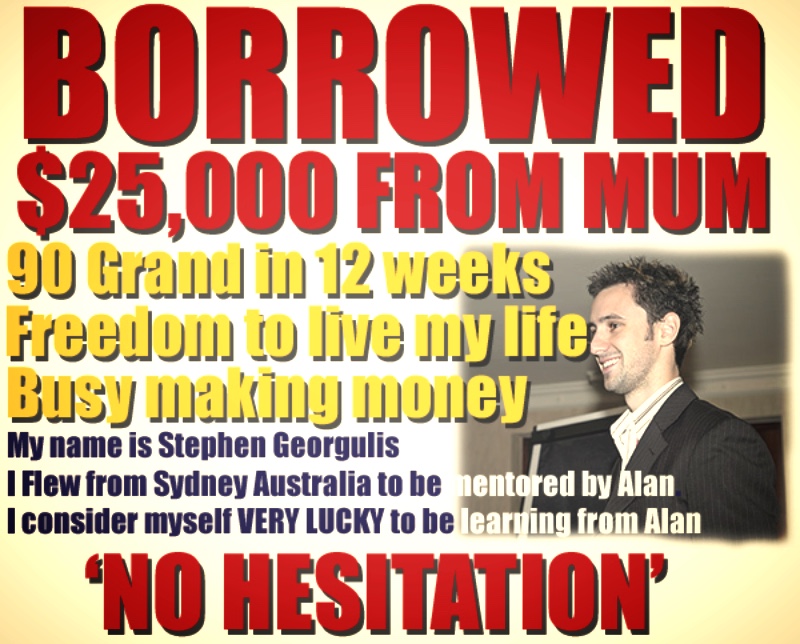 I share my HARD FAST rules with you so YOU always remain in control of your clients and the cash!
AND ...
How Would You Like Me To Show You How To Kick-Start ANY Copywriting Business In hours? You Guessed It ... I Reveal Exactly The Steps You Must Take.
I even show you live actual examples of how you can do this yourself in your business today!
You Want Some Proof That This Stuff Actually Works? Check Out Just One of My Students From The Copywriters MasterClass Below.
Kevin's Six-Fold Increase After Joining Me (and copying proven strategies I revealed to him) ...
Be Honest With Yourself ... Wouldn't You Love To Know The Life-Changing, Profit-Transforming Skill of Copywriting?
This is a quick tale of how SIMPLE WORDS turned into a cash machine for a student of mine!
Let me show how this copywriting stuff can work for you, right now.
Let me tell you about just one out of dozens of success stories I have been involved with.
Last March gone I hosted my acclaimed copywriter's MasterClass in Manchester UK. It's a class where I train students to make massive amounts of money using the power of words.
Anyway, I had a guy join me called Kevin Lewis. He is from the North of England, runs his own businesses but was struggling to get any kind of response from his mailings.
He is a great man but hugely cynical. In fact, it took me ages to persuade him to join me at the Copywriters MasterClass after many emails and phone calls.
Kevin told me this initially...
"Alan I want to come to one of your master classes but honestly ... my funds are limited and maybe should put them into some newspaper adverts, TRY and get some return then join you the next time you host one of these master classes!"
I told Kevin this in no uncertain terms.
"Kevin it's your cash to do what you like with but I want to explain something to you.
IF you put your advert in the paper how many new clients do you think will come in? You may not know this but traditionally its usually very low...
However, invest your cash with the skills I will reveal to you and I will show you this ... how to create a massive amount of dormant buyers from your list in just 30 minutes flat"
That stopped him dead in his tracks!
Now Kevin was still slightly cynical but he came along to the MasterClass rather than throwing more cash into failed advertising (VERY WISE GUY).
Want to know what happened?
Are you sure?
In a second I am going to show you how you can take Kevin's whole campaign and apply it to your business.
Okay, belt up tight cause this is a huge result for Kevin the cynic ...
The figure above is in USA dollars. The Australian amount is ...
$114,985 in less than 7 days. Would that amount make a difference to your life?
Crumbs ... can you imagine how I felt when he called me? Nuts ... I nearly fainted.
Here is what Kevin sent over to me (and just for the record Kevin's email was around 5 pages long so this is just a snippet)...
I sent the email on Tuesday afternoon, about 10 minutes later I checked my inbox and was pleasantly surprised to find I had 16 replies from potential customers asking for quotes – by the end of that afternoon I had nearly 50 emails asking for quotes, and I ended up staying in the office until 1am finishing them all! Then the next day I had about 10 more!
In the following 3 days, I took over $21,450.00 – and this week, what should have been the quietest of the year, ended up being the most successful week of the year so far!
And, I estimate conservatively that I'll pull in another $17,800.00 - $35,760.00 more, over the next couple of weeks as a result of this one single email!
This stuff is just crazy, I'd heard of results like this in the past but I didn't really think they were real, I suppose they're not until you see them for yourself, but I'll tell you what, this is just the beginning, now I know what's possible with the stuff I learned at the weekend, I'm not going to stop creating results like this, for my own businesses, and for my clients!
When I Count It All Up I Will Bank Over $88,000 Minimum From That One Single Email!
I would back up everything I've just said, and if you have any one emailing or phoning you wondering if it's really worth the investment, tell them to phone me, on 00 44 1625 571010 or email me, and I'll tell em! :-)
And that's when it's all worthwhile.
You see not only did I teach Kevin how to do that over a few hours. Not only did he walk away and make a massive amount of cash. But ... he also went away with a new skill he could continue to make cash with for life.
Kevin's business has increased SIX-FOLD since attending my acclaimed Copywriters Masterclass earlier this year!
Yes I said ...
"SIX FOLD INCREASE
Can I Talk To You Now Person to Person, Copywriter to Copywriter?

There are some things in my business life I have learnt. Some not so important. Some so important that they can make or break any business.
I'd like to share one of those with you right now. You should listen it'll make you a bucket of cash, very quickly but only if you apply it.
Here it is for you.
I started my first real business in 1989. I made so many mistakes, looking back now the amount of cash I lost or never really made is quite honestly outrageous.
Why did that happen?
The answer is very, very simple...

I Didn't Use The Opportunity To Learn and Listen To The Proven Paths Others Had Already Walked!

Yes I either did it my way or never wanted to invest in breakthrough information (thinking it was too expensive).
Doing it all my way actually cost me dearly. I wish I could turn back those years sometime and pull in the millions of lost revenue.
Look at this quick example. When I was a hairdresser I knew nothing about running a business. I remember being asked to join a business club dedicated to building salon business.
Problem was it was around $300.00 per month (not a lot now) but I decided at that time it was way to expensive. Anyway 2 years passed until I considered joining this hair salon business club. I then decided to join.
Guess what happened? Within weeks of paying my $300.00 per month we had increased virtually all aspects of the salon and eliminated a large chunk of the problems we had with staff.
WHY?
I listened to someone that had the experience I didn't have!
Anyway that was then, this is now. It's time for me to ask you this...

"Do you deserve more success with your life or copywriting business?"
YES, YOUR BUSINESS! Do you have a business right? Not just YOU hitting the keyboard day in, day out?
Okay maybe that is what you are doing right now but it doesn't have to be like that.
You will find so many ideas presented to you during the Copywriters Masterclass frankly if you can't make it work ... you probably never will!
Here's my promise: If you fail to find any cash making ideas on the DVDs from the MasterClass let me know and I will refund your cash right away.
Imagine How Much You Could Increase or Improve Your Copywriting Business If You Were At The Copywriters MasterClass?
YOU CAN be there. You can be right in the middle of the MasterClass. You can access every ounce of information delivered to the 27 students on the day.
I had every second professionally captured by acclaimed filmmaker James Redmond. James put them down on high quality digitally enhanced DVD.
You can order them right now. We will have them delivered to your home within 48 hours (unless we run out of stock) via UPS.
Would You Like a Set?
Order Your Place On My Brand New Copywriting Webinar Today, Here Is Exactly What You'll Get Delivered To You Via UPS!
Attending the live class cost £5,000
The DVD class used to be £1,500
As part of my giving back more into society, I have slashed the price right back only just covers our costs for staff, offices and more as you can imagine.
YES, THE COPYWRITERS CLASS MASTER CLASSIC IS FOR YOU: If you have a copywriting business.
YES, THE COPYWRITERS CLASS MASTER CLASSIC IS FOR YOU: If you are writing copy for clients.
YES, THE COPYWRITERS CLASS MASTER CLASSIC IS FOR YOU: If you want to know how to make another income stream using copywriting.
YES, THE COPYWRITERS CLASS MASTER CLASSIC IS FOR YOU: If you want to know how to make cash while you sleep from online sales.
Remember ... Your satisfaction is guaranteed!
Alan Forrest Smith
Course Curriculum
Copywriters Masterclass Handouts
Available in days
days after you enroll
Part ONE
Available in days
days after you enroll
Part TWO
Available in days
days after you enroll
Your Instructor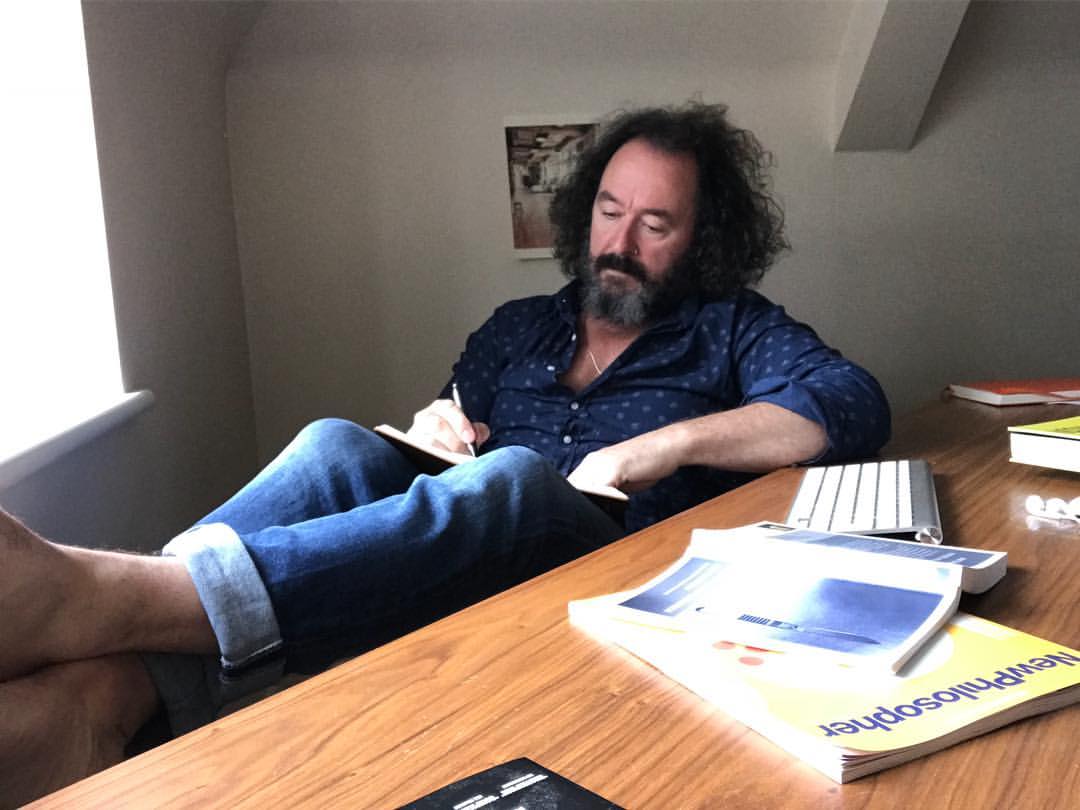 Alan Forrest Smith.
Is a writer, author, deep thinker that has his roots in philosophy. His life has been varied. Once a hairdresser for over 20-years, a fundamentalist and fully minister for 21-years and now author and writer. A writer of short stories, poetry, philosophy (Zoomanity) and his 10-year old blog packed with writings and thoughts.
Alan Forrest Smith is an ex-hairdresser, turned into a copywriter, consultant and direct marketer, turned into an international speaker and teacher, turned into a writer and a published author. Originally from Scotland, today Alan lives between Manchester and Tbilisi, The republic of Georgia with his wife Tamuna.
Visit all Alan's websites:
Follow:
https://www.youtube.com/alanforrestsmith

https://www.facebook.com/ForrestSmithAlan/

http://www.twitter.com/alforrestsmith

https://itunes.apple.com/gb/podcast/alanforrestsmi...